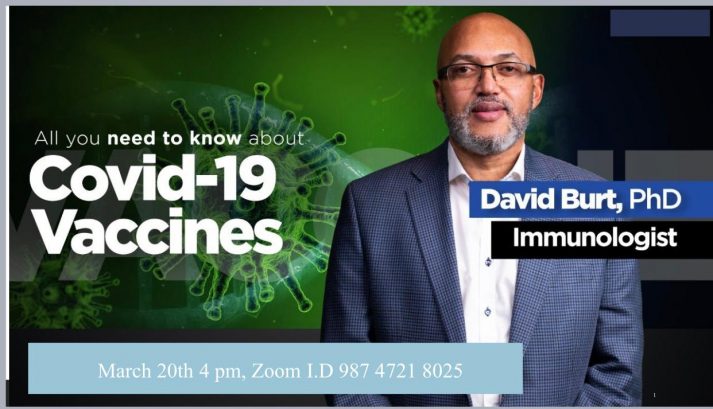 Dear Church Family,
This Saturday, March 20, 2021, at 4:00 PM, Dr. David Burt, a leading Immunologist in Ontario and a member of the Seventh-day Adventist Church, will present on and answer questions relating to COVID 19 vaccination.
Dr. Burt previously appeared with Dr. Mansfield Edward (Ontario Conference President) on the Conference's Virtual platform. It is a blessing to have him in our region - even if virtually. Dr. Burt will give a general overview of COVID 19 vaccination, and then take questions from our panelists as well as from the floor (online).
Panelists: Dr. Mpoki Ulusibisya (High Commissioner from Tanzania and Medical Practitioner) and Sister Deanna Alexander (past Executive Director for Women's Health - Federal Government of Canada) will moderate the discussion.
The program will run until 5.30 p.m. 
You don't want to miss this event! 
Join via Zoom (ID: 987 4721 8025) or the Ottawa Adventist Church's YouTube Channel.