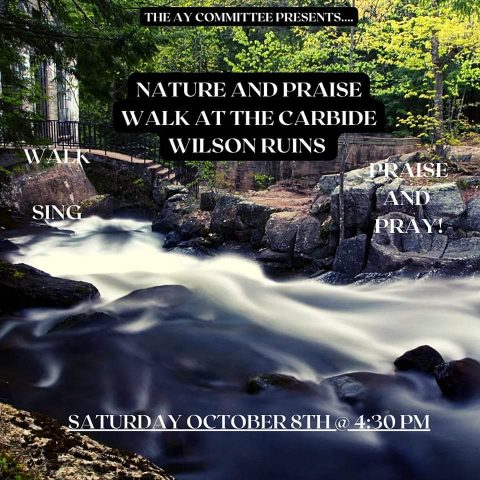 Let's start autumn on a good note!
Join us for a thrilling exploration nature praise walk on Saturday October 8th at 4:30 pm to close Youth Day with this exciting AY program. We will then go to a restaurant to partake in a meal and fellowship.
Parking is free at P11!
Enter in Google Maps "Gatineau Park p11 O'Brien Chelsea Quebec" to arrive at the  Carbide Wilson Ruins. It is 38 minutes from 2200 the Ottawa Adventidt Church.
Located in a deciduous forest near Meech Lake, the ruins are the last remaining traces of a fertilizer plant constructed by little-known inventor Thomas Leopold Willson. The complex originally included three buildings: an acid condensation tower, a dam and a generating station. Unfortunately, the ruins were never preserved. The tower was destroyed by fire and, today, only its foundation remains. The dam and plant, its gaping windows still visible, stand near the cascading falls as a reminder of a rich and innovative company — and a glimpse of our scientific history.
(https://ncc-ccn.gc.ca/places/carbide-willson-ruins)