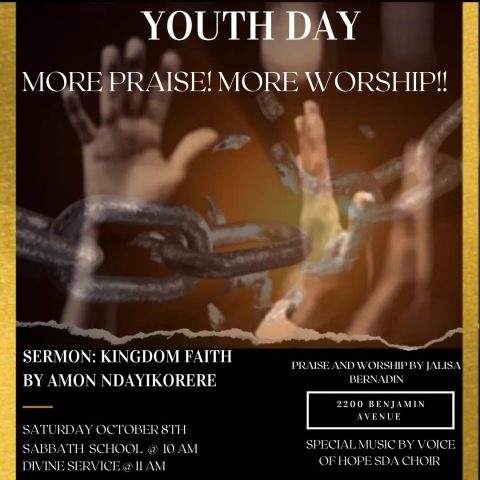 This will be a Sabbath to remember! 
Come join us for Youth Day this Saturday, October 8.
10:00 AM Sabbath School: Song service by Lena Niyikiza followed by the Sabbath School lesson with Bontu Kussi and Baptista Shimwe.
11:00 AM Divine Service: The speaker for the day will be Amon Ndayikorere!
Two Praise and Worship sets by Jalisa Bernadin,
Call to Worship by Halyssa Louis,
Season of prayer led by Charon Simbi,
Children's story by Martine Charles,
Offertory reading by Peace Samuel, and
Scripture reading will be delivered by Tarah Jean-Baptiste.
 
Pianist: Orville Daniel 
Keyboard: Adam St. Fleur
Drums: Thomas Dorzilme 
Bass: Al Etienne
 
In addition to the in-person worship experience, you can also watch on YouTube at https://youtube.com/c/OttawaSeventhdayAdventistChurch
The worship service will be followed by a nature praise walk at the Carbide Wilson Ruins at 4:30 pm.
We will end the Youth Day with a delicious meal at La Belle Verte restaurant at 166 Eddy Street, Gatineau, Quebec at 6:30-7:00 pm https://labelleverte.ca/
 
We hope to see you this Sabbath!
Share and invite your friends and family!