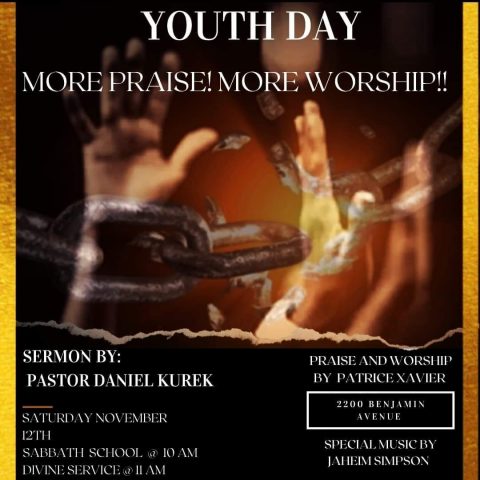 Come join us for a dynamic Youth Day worship experience this Saturday, November 12. This will be a Sabbath to remember!
10 AM Sabbath School
Song service by Shamie Louis followed by the Sabbath school lesson with Dana-Leigh Anderson and Kimesha Grant
11 AM Divine Service
The speaker for the day will be Pastor Daniel Kurek!
Two praise and worship sets by Patrice Xavier, Call to Worship by Nate Norelus, 
Special testimony by Stéfany Oliver, 
Season of prayer led by Amon Ndayikorere, Children's story by Tiffany Stewart, 
Offertory reading by Akos Amankwah. The Scripture reading will be delivered by Destiny Worrell.
Watch on YouTube at https://youtube.com/c/OttawaSeventhdayAdventistChurch
Pianist: Sibelart
Keyboard: Adam St. Fleur
Drums: Henock
Bass: Al Etienne
We hope to see you this Sabbath!