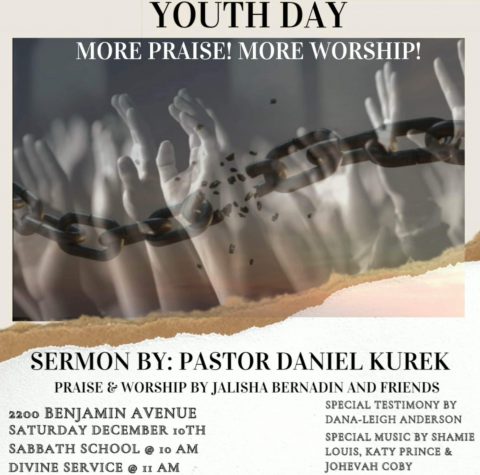 Join us this Saturday, December 10 for a dynamic worship service!
End the year right with praise on the last Youth Day of the year!
10 AM Sabbath School
Song service by Lena Niyikiza followed by the Sabbath school lesson with Peace Samuel and Thierry Nkubito
11 AM Divine Service
The speaker for the day will be Pastor Daniel Kurek!
Two praise and worship sets led by Jalisa Bernadin, Call to Worship by Ariel Lewis, special testimony by Dana- Leigh Anderson, season of prayer led by Baptista Shimwe, children's story by Devonnie Watson, offertory reading by Danielle Worrell. The scripture reading will be delivered by Deroux Jones.
Watch on YouTube at https://youtube.com/c/OttawaSeventhdayAdventistChurch
Pianist: David Lake and Elizabeth Venditti
Drums: Thomas Dorzilmé
Bass: Al Etienne
We hope to see you this Sabbath!